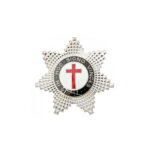 Breast Star Jewel
£22.72
The red cross in the center

Silver Plated; polished to a very high standard

Brooch pin on the rear

Approx 70mm in diameter
Compare
Compare
Description
Masonic Knight Templar Silver Plated Breast Star Jewel
Silver Plated Breast Star Jewel; Masonic Knight Templar Silver Plated Breast Star Jewel
Features:
The Masonic Knight Silver Star Pendant.

It is Pyramid style Knights Templar Breast Star.

The red cross in the center

Silver Plated; polished to a very high standard

Brooch pin on the rear

Approx 70mm in diameter 

100% quality guaranteed

Long lasting Craftsmanship of the highest quality
Description:
We are professionally presenting you with the highest quality breast gem. Silver plated gem that has been hand polished to a high quality. High quality silver is polish to a high shine, with a three dimensional raised surface and a badge style pin on the back. This multidimensional, pyramid style Knights Templar Perceptors Breast Star exudes beauty and significance.
The symbol of the Red Preceptors Cross is set against a shining white enamel background. It is the ensign of a KT member of Freemasonry. The outstanding level of craftsmanship and polishing on the silver plated Masonic jewel will surely capture your attention. You can wear it with your clothes at lodge meetings; ceremonies, and other similar events.
We are Masonic Supplies and we have a wide range of Masonic Regalia Products. We Supply all degrees of Masonry Accessories. Visit our Site to get a discount on your favorite products.
You can also visit our USA Masonry Shop.