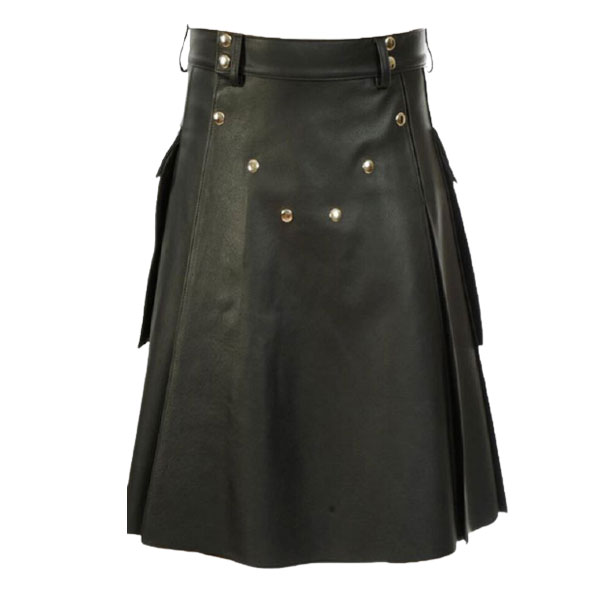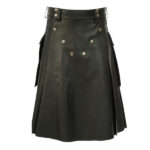 Leather Kilt
£190.00
Cow Grain Leather

Lining: Satin

Style: Kilt

Leather Laces
Compare
Compare
Description
Leather Kilt
Leather Kilt – Black Leather Kilt
Features:
Black Grain Leather

Satin Lining

Style: Kilt

Leather Laces

Apron 6 Black Buttons

In Black Color

Adjustability: 1 Inch

Size: Made to Order
Description:
Scottish and Irish people used to wear kilts as it was an important part of their culture and heritage. It is a fashionable update to the traditional kilt. Our kilts makers made changes in traditional kilts to make them modern because 21-century people love to wear modern kilts. We made kilts because many kilt lover wants to wear them. It is now a trend and has a functional value.
No matter you are wearing it at work or in everyday use you will feel super comfortable all the time.  You can wear this kilt at parties and outdoor events. You can wear these kilts with buckles and belts as well. Customers' satisfaction is our first priority. We made this kilt from 100% pure leather. We have all kinds of kilt variety. All colors and sizes are available so, what are you waiting for? place your order now.
So, We are London Regalia UK and we have a wide range of Masonic Regalia Products. We Supply all degrees of Masonry Accessories. Visit our Site to get a discount on your favorite products.
You can also visit our USA Masonry Shop.