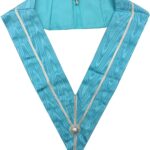 Past Master Collar | Freemasons
£39.00
Silver metal braid with chrome ball

Excellent stitching and finishing

Metal slider to secure the collar to the jacket
Compare
Compare
Description
Past Master Collar
Past Master Collar-Craft Regalia
Features:
Best quality hand made past master collar

Finest quality blue moiré watermarked ribbon

Silver lining

Silver metal braid with chrome ball

Excellent stitching and finishing

Metal slider to secure the collar to the jacket

Highly Detailed & measures approximately 5″ across

The IPM collar features a silver braid and button and is fully lined.

There is a silver parrot clasp at the base for fitting of collar emblem.
Description:
The Past Master's Collar with a 'V' neck is compose of blue Moiré fabric and has a soft inside lining for a comfortable fit. It includes a lower hook for attaching jewels and a slider on the top to keep it under the jacket collar.
The Craft Past Masters' Collar & Jewel PM is expertly created to meet the highest masonic standards. That is why it is appropriate to wear to upcoming lodge gatherings. The collar is construct of Moiré material, which is soft and comfortable to wear all day.
So, We are London Regalia UK and we have a wide range of Masonic Regalia Products. We Supply all degrees of Masonry Accessories. Visit our Site to get a discount on your favorite products.
You can also visit our USA Masonry Shop.