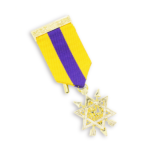 Second Degree Breast Jewel
£24.00
Blue and Yellow ribbon 

Comes with a complimentary pocket slider to fit in your jacket pocket; Engraving included. 

Star-shaped breast jewel along with three arrows

The breast jewel is metal gilded
Compare
Compare
Description
Second Degree Breast Jewel
Second Degree Breast Jewel
Features:
Finest quality breast jewel

Blue and Yellow ribbon 

Comes with a complimentary pocket slider to fit in your jacket pocket; Engraving included. 

Star-shaped breast jewel along with three arrows

The breast jewel is metal gilded

Gilt Breast Jewel with stick pin attachment

Polished to a high standard

Excellent quality and detail
Description:
The Order of Secret Monitor 2nd Degree Breast Jewel OSM is compose of the best materials. The expert craftsmen have beautifully produced this lovely breast treasure. The star shape, three gold-coated arrows, and two freemasonry characters, viz. The letters D and J are tastefully embossed in the center of this breast gem, which has a high level of craftsmanship and polish.
It is accompanied by a blue and yellow ribbon. This gorgeous breast gem is appropriate for wearing at lodge meetings and festivities. It adds a special touch to your outfit and comes with a stickpin attached to the back.
We are Masonic Supplies and we have a wide range of Masonic Regalia Products. We Supply all degrees of Masonry Accessories. Visit our Site to get a discount on your favorite products.
You can also visit our USA Masonry Shop.