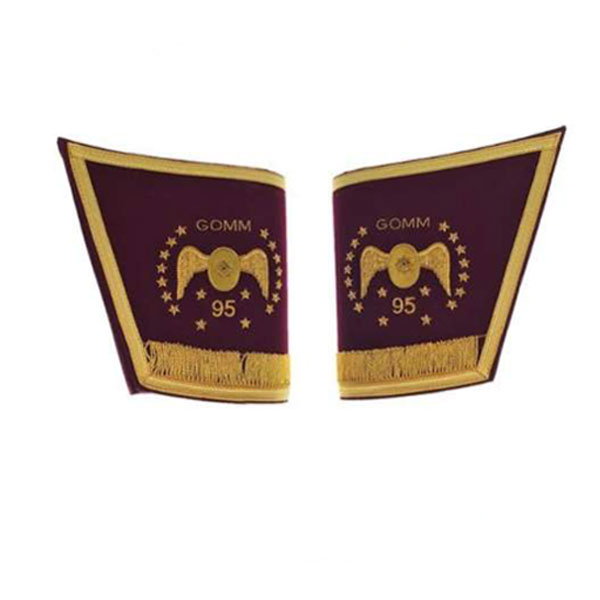 Masonic Scottish Rite 95th Degree Gauntlets Cuffs – With Fringe
Hand-embroidered gauntlets of the highest quality

Embroidered With

Fringe

Finest quality
Compare
Compare
Description
Masonic Scottish Rite 95th Degree Gauntlets Cuffs -Embroidered With Fringe
Masonic Scottish Rite – Masonic Scottish Rite 95th Degree Gauntlets Cuffs
Features:
Hand-embroidered gauntlets of the highest quality

Embroidered With

Fringe

Finest quality
Freemasonry Scottish Ritual 95 Degree Gauntlet Cuffs with Fringe Embroidery Hand-embroidered gauntlet of the highest standard. The gauntlets on our website are just a small preview of what we have to sell. For more prototypes and custom orders, please contact us. For the same price, we can make gauntlets to your specifications.
We have also provided the best quality Gauntlet. Wear this Gauntlet with collar and cap in your attire. Look classy and beautiful. Also, these types of attire belong to the heritage. Order Now through our online store and product6 will be at your doorsteps.
We produce a range of high-quality masonic pieces such as aprons,  short cases, Caps, Belts, Badges, Gloves, knight temples, and Scottish Kilts, regalia accessories, Blazer Crests, Gauntlets Cuffs, Scottish rite, York rite.
So, We are London Regalia UK and we have a wide range of Masonic Regalia Products. We Supply all degrees of Masonry Accessories. Visit our Site to get a discount on your favorite products.
You can also visit our USA Masonry Shop.