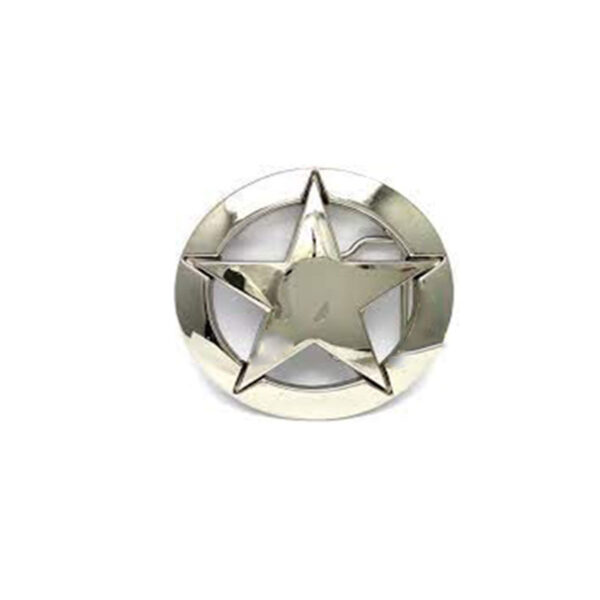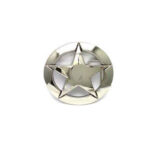 Star Logo Belt Buckle | Military Star
£9.50
Premium quality five pointed star buckle 

Durable nickel plating

Made of strong and durable material

Polished to a mirror finish
Compare
Compare
Description
Military White Five-Pointed Star Logo Belt Buckle 
Military White Five Pointed Star Logo Belt Buckle-Military Buckle
Features:
Premium quality five pointed star buckle 

Durable nickel plating

Made of strong and durable material

Polished to a mirror finish

Easy to use

Quality guaranteed
Description:
Strong and long lasting five pointed star buckle. Nickel plating ensures that it will last a long time. This beautiful belt buckle was created by our skill workers in a very elegant manner; with a high level of detail and finish.
Buckle
A rectangular brass backplate with a white metal circlet in the center and a crescent over a five pointed star. The buckle is finish off with a brown leather; fob on the back.
Classify
As souvenirs of his experience in Mesopotamia; Jack Finnigan took a Turkish Army button and a belt buckle from a Turkish soldier. The weather was harsh; with temperatures frequently exceeding 40 degrees Celsius (104 degrees F).
If you have any questions, please do not hesitate to contact us; our friendly customer service team is waiting to assist you. London Regalia is dedicated to providing the highest level of service and total customer satisfaction. Add it to your Wish List to stay up to date on the latest deals and discounts.
We are Masonic Supplies and we have a wide range of Masonic Regalia Products. We Supply all degrees of Masonry Accessories. Visit our Site to get a discount on your favorite products.
You can also visit our USA Masonry Shop.