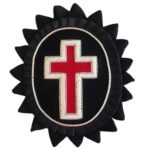 Knights Templar Chapeau Rosettes Sir Knight
£26.00
Top Quality Silver Bullion Embroidery Works

Loop and Hook (Velcro) on back

Rose is made of Black Silk fabric
Compare
Compare
Description
Knights Templar Chapeau Rosettes Sir Knight
Knights Templar Chapeau Rosettes Sir Knight
Features:
High-quality Knights Templar Chapeau Rosettes

Red Velvet Knight Templar Chapeau Rosettes

Top Quality Silver Bullion Embroidery Works

Loop and Hook (Velcro) on back

Rose is made of Black Silk fabric

Hand embroidered with Silver Bullion

We provide customization for Free indeed

The product is the mason's symbol

Knights Templar Chapeau Rosettes Sir Knight
A respectful and dignified complement to the proudest of Sir Knights' dress. Particularly the Commander of any Chapeau Rosettes Bullion Embroidered. And few can equal this exceptional consistency, which is made from fine Gold BULLION wire and this accessory would complement the full class accessory to be worn on the outside uniform collar of a Former GRAND COMMANDER or Templar Officer. This Chapeau is on black silk fabric and with gold bullion embroidery on red velvet. The product is the mason's symbol. Loop and Hook (Velcro) on the back of the product. Of course, Hand embroidered with Gold Bullion and Mylar Thread. Product at your doorsteps.
So, We are London Regalia UK and we have a wide range of Masonic Regalia Products. We Supply all degrees of Masonry Accessories. Visit our Site to get a discount on your favorite products.
You can also visit our USA Masonry Shop.