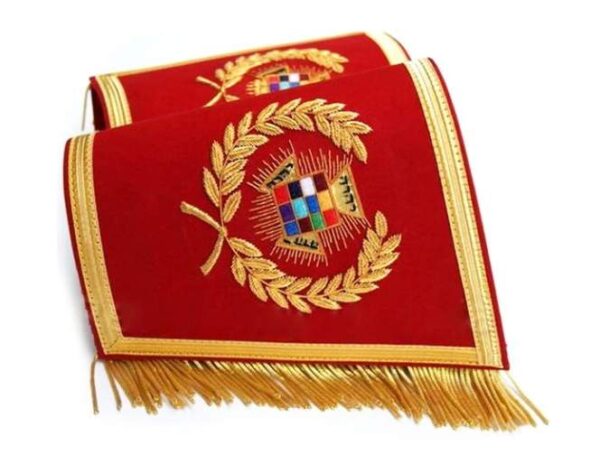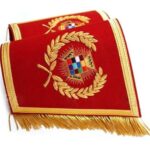 Masonic Gauntlets Cuffs – PGHP Embroidered
Finest quality hand embroidery gauntlets

Past Grand High Priest Cuff Set (One pair)

Red Fabric

Gold Trim
Compare
Compare
Description
Masonic Gauntlets Cuffs – Past Grand High Priest PGHP With Fringe
Masonic Gauntlets Cuffs – Past Grand High Priest PGHP With Fringe
Features:
Finest quality hand embroidery gauntlets

Past Grand High Priest Cuff Set 

Red Fabric

Gold Trim

Embroidered Cuffs With Fringe

Finest quality Fabric indeed

Different Colors in Embroidery
Royal Arch Past Grand High Priest (PGHP) Masonic Cuffs, Past Grand High Priest Gauntlet Set Hand bullion embroidery, red fabric, gold trim, past Grand High Priest Cuff Fringe of gold. Best high-quality red color fabric is used to make these gauntlets cuffs one of the best masonic products. The gauntlets on our website are just a small preview of what we have to sell. For more designs, so please contact us. For the same price, we can make gauntlets to your specifications.
Thus, A Masonic Cuff/Gauntlet is a variety of gloves constructed using metal plates or hardened leather to protect the wrist.
Cuffs/Gauntlets are worn by the senior officers in the lodge during private meetings and ceremonies. So, The wearing of Cuffs carries great meaning to the Freemasons – as it allows them to recognize each other's rank and position in the lodge.
So, We are London Regalia UK. and we have a wide range of Masonic Regalia Products. We also Supply all degrees of Masonry Accessories. Visit our Site to get a discount on your favorite products.
You can also visit our USA Masonry Shop.