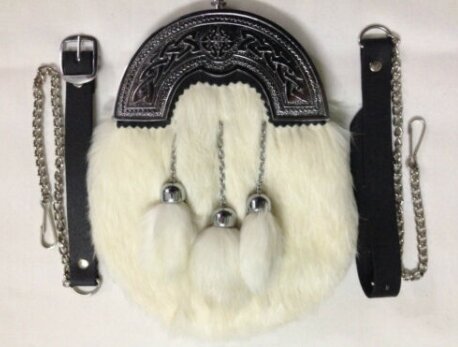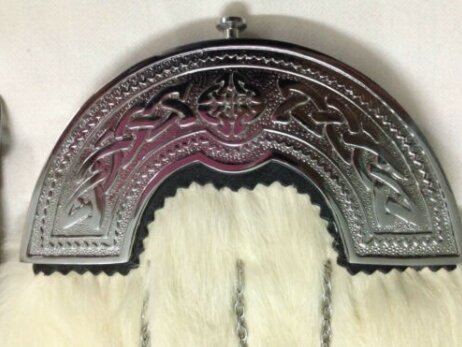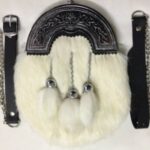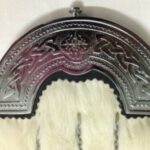 White Rabbit Fur Sporran – Scottish
£27.00
White Rabbit Fur

Best Quality Leather
Compare
Compare
Description
White Rabbit Fur Sporran
Sporran – White Rabbit Fur Sporran
Features:
White Rabbit Fur

Best Quality Leather

3 chained tassels with ball caps

chain strap
Description:
This sporran is handmade with the best quality leather & white rabbit fur to very high standards. Sporrans are made using traditional methods from high-quality, real leather hide and are large enough to hold a wallet, mobile phone, or key.
Kilts do not have pockets, so this means that's there is no place to keep your personal belongings, such as money, food, or mobile, then the need for a sporran was born, a sporran is a key feature of traditional leather or fur Highland Dress and is to choose to match the formality of the clothing worn with it.
A leather strap or chain, conventionally placed against the hip on the side of the body, comes with the Scottish Sporran. It is natural to slip it over onto your hip during a wedding reception or dinner dance, or any other occasion where dancing takes place. The way the traditional sporran closures used to look is said to be commemorated, so it is steeped in history. Some sporrans will have a minimum of two tassels for that purpose, but many will come with three or more. Not only do they look fine, but they encourage you to proudly pursue your rich Scottish heritage by wearing one for all to see on your belt. 
So, We are London Regalia UK and we have a wide range of Masonic Regalia Products. We Supply all degrees of Masonry Accessories. Visit our Site to get a discount on your favorite products.
You can also visit our USA Masonry Shop.