Garments of the Knights Templar
London Regalia
Garments of the Knights Templar
The Knights' Clothes Templar: The Latin Rule of the Templars spells out exactly what the Order's members have to wear. They specify which types of clothing are permitted or prohibited. The sergeants wore black mantels and the knights wore white mantels. After 1143, the Templars were permitted to wear a crimson cross on their habits. The Order's Draper was in charge of distributing these clothing.
Brothers' Dress
Brother knights, unlike other military orders, may have their own personal property. In terms of clothing, the Templars were compelled to wear linen rather than wool in the spring and summer, which was likely appreciated by those who lived in hotter areas.
Clothing should preferably be white, which symbolizes purity. No brother would wear a piece of fur or anything else associated to bodily functions, even a blanket, unless it was made of lamb's or sheep's hair. If any of the rules of the order are broken. A member was sanctioned.
So, The Draper takes care of all the above things. They distribute the garments to the knight and ensure that the garments fitted perfectly. The members who receive new robes can be returned back their old ones. Those mantels gave to the poor. If any brother after dress-up feels arrogant or proud, he was punished. A linen shirt shall be granted to any brother who wishes to wear it in summer also.
Each should have enough room for a mattress, bolster, and blanket, and he should use a linen blanket at all times. To put it another way, it's a fluffy pillow. Thus, They will sleep in shirts, breeches, shoes, and belts at all times.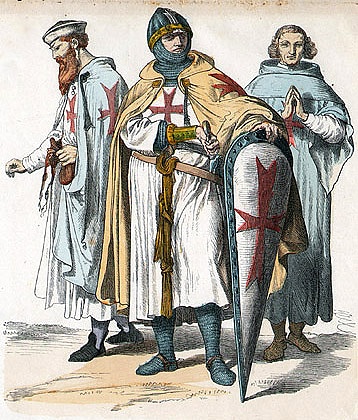 Masonic Supplies also has a wide variety of Masonic Regalia, Masonic Supplies, Blue Lodge Regalia, Kilts and apparels, Masonic Aprons, York Rite Regalia, OES Regalia and many more.
If you desire a Templar Costumes, like knights templar t shirts, knights templar tee shirts, knights templar uniform jacket, knights templar polo shirts you will inevitably find the costume you need ! You will indeed find the most beautiful Templar outfits here, including the Official Templar Dress.