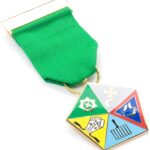 Composite Breast Jewel | Masonic Supplies
£31.00
Engraved hard gold plated top bar

Polished to a high standard

Excellent quality and detail

Made of skin-friendly metal
Compare
Compare
Description
Members Composite Breast Jewel
Members Composite Breast Jewel
Features:
Pentagonal pendant with the symbols of the 5 Degrees of the Allied Masonic Degrees,

Green grosgrain ribbon

Engraved hard gold plated top bar

Polished to a high standard

Excellent quality and detail

Made of skin-friendly metal

Beautiful enameled surface

A stickpin fitting attached to the back
Sizes:
Length = 4.5 inches (11 cm)

Width = 1.5 inches (3.5 cm)
Description:
This Mark Mason's breast gem is made with the finest grade metal material and expertly done silver plating and polishing. It contains a brooch style pin rather than a lengthy pin at the top, making it nearly impossible to lose. The Masonic Collection presents a magnificently crafted Allied Masonic Degrees Composite Breast Jewel for our esteemed masonic brethren all around the world. The jewel is made of a high-quality metal that will survive for a long time. A single bar suspends five diamonds, and a stickpin is affixing to the back.
We are Masonic Supplies and we have a wide range of Masonic Regalia Products. We Supply all degrees of Masonry Accessories. Visit our Site to get a discount on your favorite products.
You can also visit our USA Masonry Shop.