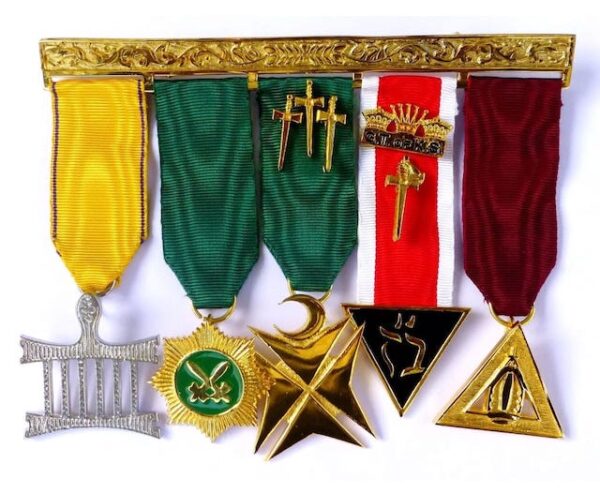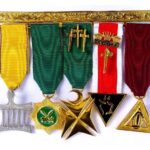 Five Miniature Jewels | Set for Members
£163.00
Engraved hard gold plated top bars

Polished to a high standard

Excellent quality and detail

Stickpin fitting on the back
Compare
Compare
Description
Member's Set of 5 Miniature Jewels
Member's Set of 5 Miniature Jewels
Features:
Complete set of 5 miniature jewels for members of the Allied Masonic Degrees.

Hard gold plated jewels with hard enamel color on various colored grosgrain ribbons.

Engraved hard gold plated top bars

Polished to a high standard

Excellent quality and detail

Stickpin fitting on the back
Description:
A superior quality tiny set of 5 jewels by Allied Masonic Degrees (England), wonderfully fashioned on a simple metal bar with a brooch type fastening pin on the back, created and manufactured for us to our high and rigorous standards.
The 5 jewel bar is for the following degrees:-
St. Lawrence the Martyr

Knight of Constantinople

Grand Tilers of Solomon

The Red Cross of Babylon

The Holy Order of Grand High Priest
A newly admitted member of the Allied Masonic Degrees can instantly use the 5 jewel bar because the jewels can flip over into your breast pocket for the degrees not yet completed. It can then be used till the member has finished his year as chair and obtained District Honours. An excellent product for a new or current member to utilize for many years and then pass on to another member when no longer needed.
92.5mm bar length (will comfortably fit into a breast pocket)
Jewels fluctuate in length from the top of the bar to the bottom of the gem, ranging from 73mm (shortest) to 88mm (longest).
We are Masonic Supplies and we have a wide range of Masonic Regalia Products. We Supply all degrees of Masonry Accessories. Visit our Site to get a discount on your favorite products.
You can also visit our USA Masonry Shop.