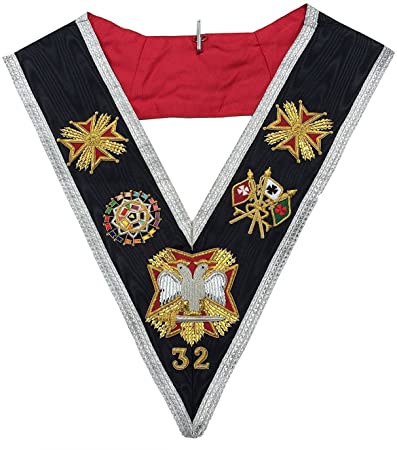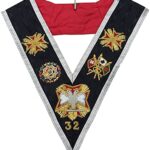 Rose Croix 32nd Degree Gold Collar
£122.00
4 Inch wide plain ribbon

Stitched silver metal hook for attachment to the collar

Clip for securing a collar jewel

"V" tip fitted with Jewel swivel hook
Compare
Compare
Description
Rose Croix 32nd

Degree

Collar
32nd Degree Gold Collar – Hand embroidered
Features:
Rose Croix 32nd Degree Handmade Collar with heavy embroidery

Finest quality gold and silver embroidery

3D bullion design

14mm silver braid all over the collar

4 Inch wide plain ribbon

Stitched silver metal hook for attachment to the collar

Clip for securing a collar jewel

"V" tip fitted with Jewel swivel hook

Finished to a very high standard with a Neck hook and Swivel hook for the jewel.
Description:
Rose Croix 32nd Degree Collar, expertly hand embroidered with every little detail carefully tested to ensure perfection in all aspects. The collar's borders are stitched with a silver braid over black moire watermarked ribbon, and there is a self-locking swivel hook for hanging the gem and a collar clip in the back.
You've come to the perfect location if you want to make an excellent first impression at the lodge. However, we have a devoted staff of production designers and shippers who work relentlessly to deliver high-quality regalia on time.
We are Masonic Supplies and we have a wide range of Masonic Regalia Products. We Supply all degrees of Masonry Accessories. Visit our Site to get a discount on your favorite products.
You can also visit our USA Masonry Shop.