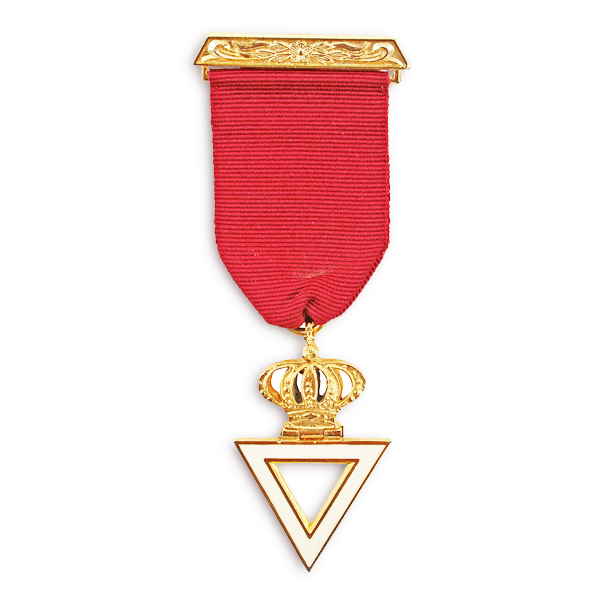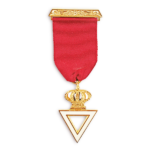 Members Breast Jewel of the Order
£25.00
The silk Maroon ribbon

The breast jewel is a metal gild

Polished to a high standard

Size is 3.5cm * 12cm

Excellent quality an
Compare
Compare
Description
Members Breast Jewel of the Order
Members Breast Jewel of the Order
Features:
This jewel comes with a quality wallet as attached to store your jewel, you can personalize the holder with a name and lodge insert to the front

Finest quality breast jewel

The silk Maroon ribbon

The breast jewel is a metal gild

Polished to a high standard

Size is 3.5cm * 12cm

Excellent quality and detail

Jewel has a stickpin fitting on the back
Description:
A comparable apron is worn by the Thrice Illustrious Master (i.e., Master) of a Council, with the symbol of the office of Master stitched in the center. A prior master's apron bears a slightly different symbol. A district grand officer wears a crimson collarette with a golden gem of their office's symbol dangling from it, whereas a grand officer's apron (embroidered with his rank's badge) and collar are the bordered with gold lace. The breast jewel's ribbon is trimmed in white.
We are offering you the highest quality breast jewel, which includes a maroon ribbon, a professionally metal gilded jewel, and a robust stickpin fitting on the back. First and foremost, our professional employees have created this lovely breast jewel very beautifully with an outstanding level of detailing and quality, and this basic breast jewel is ideal for any Freemason.
We are Masonic Supplies and we have a wide range of Masonic Regalia Products. We Supply all degrees of Masonry Accessories. Visit our Site to get a discount on your favorite products.
You can also visit our USA Masonry Shop.