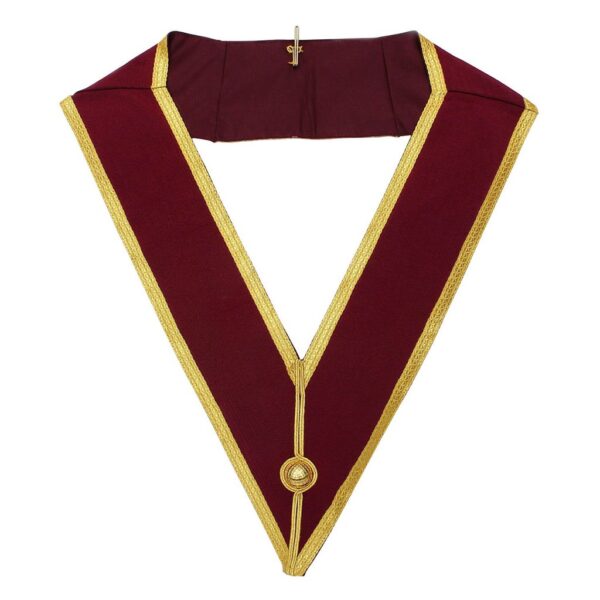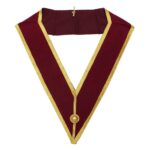 Provincial Collar | Order of Athelstan
£45.00
Hand embroidered

Gold Edging and center dome

Gilt metal swivel jewel clip

Well padded for comfort
Compare
Compare
Description
Order of Athelstan Provincial Collar
Order of Athelstan Provincial Collar
Features:
Best quality provincial collar

Finest quality maroon ribbon

Hand embroidered

Gold Edging and center dome

Gilt metal swivel jewel clip

Well padded for comfort

Golden lining

Metal slider to secure under your jacket collar, and swivel clip for jewel attachment.

Golden metal braid with ball

Excellent stitching and finishing

Metal slider to secure the collar to the jacket

4 inches wide crimson moire ribbon.
Description:
This sash is completely hand-made with a button or braid and the finest quality. The highest quality hand-crafted Masonic Knights Templar sash, composed of black moire watermarked ribbon and delicate black thread fringe. You can wear this sash at different lodge meetings and other important occasions. We design this beautiful black sash with a sliver button. You will look absolutely stunning by wearing this sash and make a good impression at the lodge. We have all degree and constitution sashes.
To your KT Regalia collection, add this exquisite Masonic Knights Templar Sashed. This Knight Templar Sash has a stunning style and a rich black color that you will adore. It's made of a black moiré fabric.
We are Masonic Supplies and we have a wide range of Masonic Regalia Products. We Supply all degrees of Masonry Accessories. Visit our Site to get a discount on your favorite products.
You can also visit our USA Masonry Shop.